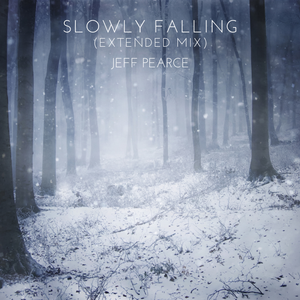 When I released the digital only EP "In Winter" in the early days of 2021, I had a feeling that "Slowly Falling" would be the highlight of the EP.  It was an ambient improvisation, created while watching the snow slowly falling outside my living room window. The delay loops I used to create this song were set to let the notes I was playing to slowly fade out over time, while new notes were put over the top- notes that would ALSO fade over time. In that aspect, the music was reflecting the landscape outside, as I watched layers of snow covered by new layers of snow.

As expected, I received a lot of feedback about the track "Slowly Falling", which was 17:28 long, with most of the feedback being "I would have loved to hear this track play longer!". Because of how I recorded "Slowly Falling", and the software looper I used, it was easy to go back to the original recording, click a button, and "hear what happens".

In this case, I was pleasantly surprised by what happened; I found myself drawn to points past the original ending, and heard what this "new" track was saying.  While listening to this extended mix, and how the music journeyed from hesitant peace to quiet acceptance, it led me to reflect not only on the nature of falling snow, but my own path through 2021- which started with hesitant peace, and ended with a quiet acceptance.



Size guide
| | | | | | | | | | |
| --- | --- | --- | --- | --- | --- | --- | --- | --- | --- |
|   | S | M | L | XL | 2XL | 3XL | 4XL | 5XL | 6XL |
| Length (inches)     | 28 | 29 | 30 | 31 | 33 | 34 | 35 | 36 | 37 |
| Width (inches)     | 18 | 20 | 22 | 24 | 26 | 28 | 30 | 32 | 34 |