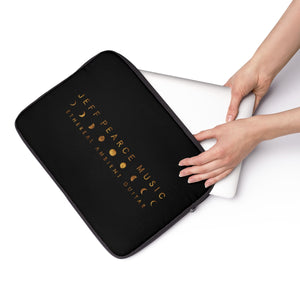 There are a lot of laptop covers out there.  So why choose this one?  Well, as you know, I purchase and test every print on demand product in my store, and this was no different.

So I bought this sleeve- it looked good.  But what kind of protection does it give?  I decided to put it to a test.

so I put my Macbook Air in the sleeve, and I took it outside.  I put the sleeve (with computer inside) in the middle of the lane that goes in front of my house.  Then I waited. 

Eventually, I heard the sound of our local trash truck approaching.  And with seconds, it had driven right over the sleeve.  After the truck was gone, I went out into the lane to get the sleeve.  I unzipped the sleeve, reached inside- and, I kid you not-

THE COMPUTER WAS IN PIECES, BECAUSE WHAT DID YOU EXPECT?!?!

... now, of course, I never performed any such test with my computer in this sleeve- and if you're tempted to perform such a test, I'd suggest you use a Speak and Spell- you'll take less of a financial hit.

But if you are looking for a sleeve that fits snugly on your computer, keeps out dust, and looks good doing it, this will work great.  
.: 100% Polyester
.: Top loading zipper
.: Black polyester back
.: Lightweight
Size guide
| | | | | | | | | | |
| --- | --- | --- | --- | --- | --- | --- | --- | --- | --- |
|   | S | M | L | XL | 2XL | 3XL | 4XL | 5XL | 6XL |
| Length (inches)     | 28 | 29 | 30 | 31 | 33 | 34 | 35 | 36 | 37 |
| Width (inches)     | 18 | 20 | 22 | 24 | 26 | 28 | 30 | 32 | 34 |